SECRET 7″ Teenage Cancer Trust Exhibition At Idea Generation Gallery (London)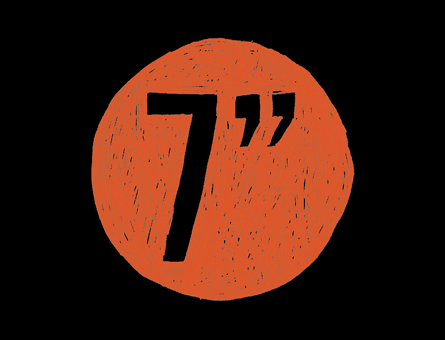 There is something about vinyl that transcends every format that has followed in its path. An integral reason for this is that it's allure and functionality allows the listener to be absorbed by more than one of their senses. Secret 7" is a project which aims to rekindle some of the excitement for sleeve art in the digital era by exploring how a track would be interpreted by an array of brilliant artists. In April the Idea Generation gallery in Shoreditch, London will exhibit around 700 unique seven-inch sleeves inspired by tracks from The Cure, Florence + The Machine, Bombay Bicycle Club, CSS, DJ Shadow, Noah & The Whale and Ben Howard. The exhibition has an added air of mystery as no-one will know who designed each sleeve, or which of our seven tracks is housed inside. On the 21st April – Record Store Day – through to close on Sunday the exhibition is yours to own. Each of the one-of-a-kind heavyweight 7'' records will be available to take home with you for a minimum donation to Teenage Cancer Trust of £40. Every penny profited from the sale of these exclusive vinyl records is going to the charity. Find us on facebook And on twitter
Find out more about the cause and check out some of the artwork after the jump!...
Art Show: Liz Miller – "Recalcitrant Mimesis" at David B. Smith Gallery
January 20, 2011 – February 18, 2011 Public Lecture: Friday, January 20th from 6-7 pm Opening Reception: Friday, January 20th from 7-9 pm
---
DENVER – The David B. Smith Gallery is proud to present a partner exhibition with the new Clyfford Still Museum, featuring a site-specific installation and collage works on paper by artist Liz Miller. The exhibition opens on Friday, January 20th with a public lecture by Liz Miller from 6–7 pm, followed by an opening reception from 7–9 pm. Please join us for this exciting event; Miller will talk about her work as an installation artist and her current exhibition, and will also welcome questions from the audience. ...
Art Show: Ron English – Seasons in Supurbia @Corey Helford Gallery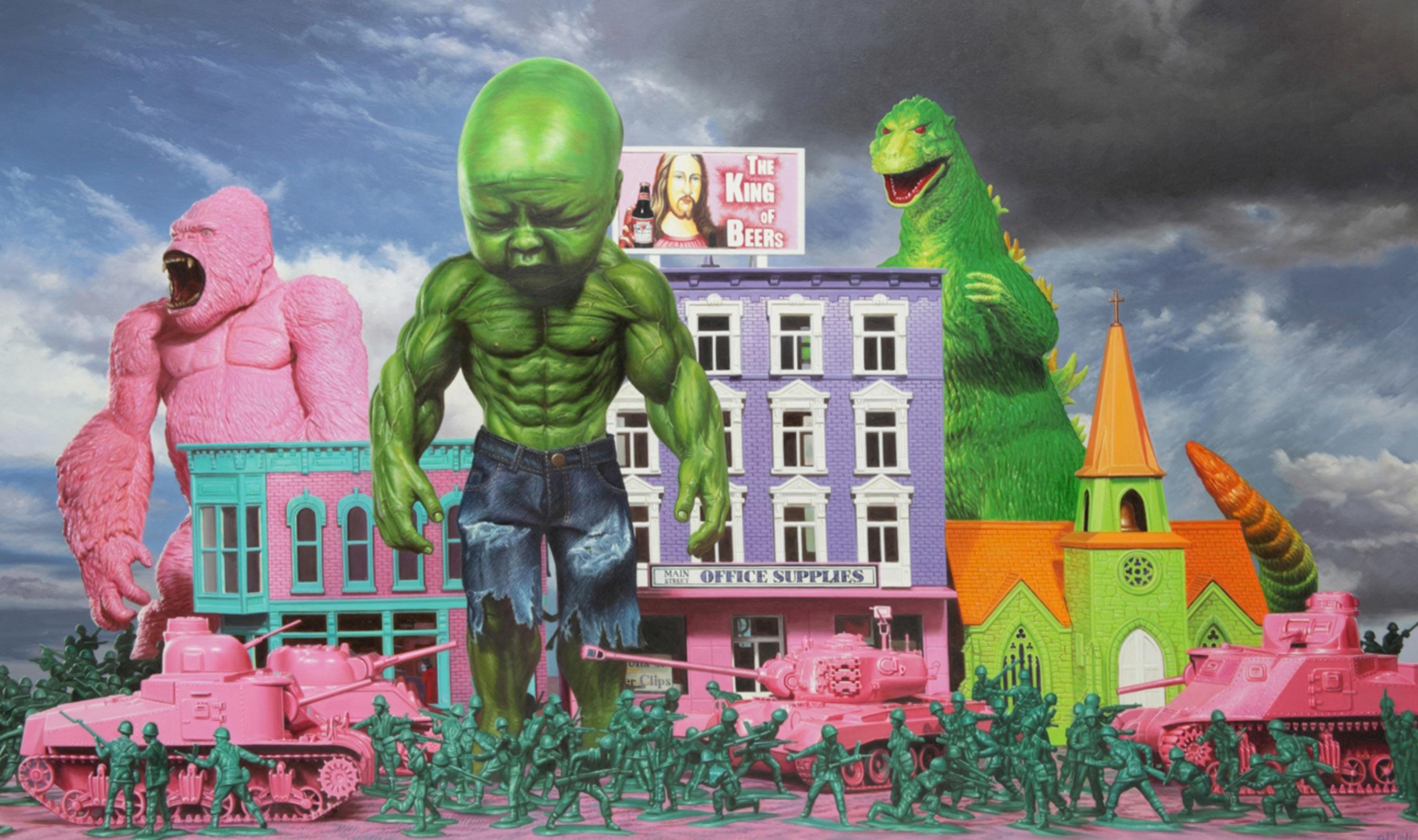 Opening Reception Saturday, November 19, 2011 from 7‑10pm On View November 19 ‑ December 10, 2011
On Saturday, November 19, Corey Helford Gallery is pleased to present "Seasons In Supurbia," the highly anticipated solo exhibition of original new works by Ron English, renowned street artist and master pop surrealist painter. Considered one of the most prolific artists of our generation, English is the father of POPaganda, a term he coined to define his signature mash-up of high and low cultural touchstones, from superhero mythology to totems of art history, creating a visual language of evolution. Recognized for his stunning technique and inventive use of color, English's artistic presence continues to evolve from illegal street murals to movie screens, where he is crowned "the Greatest Living Artist" in Morgan Spurlock's 2011 film "The Greatest Movie Ever Sold." ...
White Walls Presents: Circulatory System: Recent Works by Augustine Kofie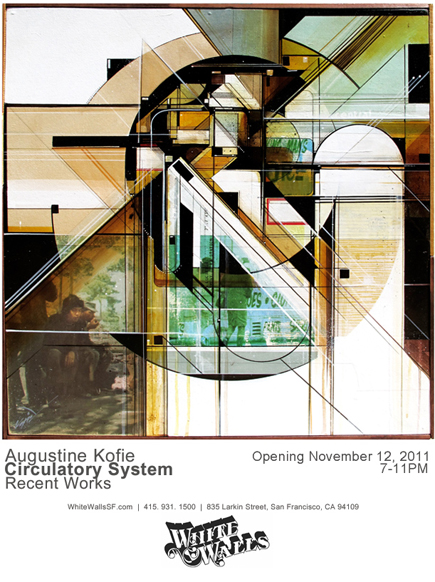 White Walls
is pleased to present Circulatory System, the new collection of work by Los Angeles-based artist Augustine Kofie. This will be Kofie's second solo show with White Walls, and will include 30 recent works including smaller collage case studies on paper, hand painted multiple screen prints, assemblage on wood, paintings on canvas and wood and a large wall installation. The opening reception will be Saturday, November 12th, from 7-11 pm, and the exhibition is free and open to the public for viewing through December 3rd. The works comprising Circulatory System feature a clean delineation of geometric forms and divisions of space with a technical precision that resembles architectural drafting. Kofie's understanding of illustration and linework results in a style of meticulous rendering that never seems cold or sterile due to the delicate sense of balance maintained within each composition. The muted palette softens the sharp lines, and imparts a simple elegance to the complicated arrangements of shape. The vintage-toned color scheme- the pale seafoam and mint greens of the sixties and the varying beige shades of worn paper- fit perfectly with the collage aspect of the work....
Art Show: Dylan Egon – Home of the Brave at Jonathan LeVine Gallery

Dylan Egon's work is so great! You have to check out his first solo exhibition at Jonathan LeVine Gallery (New York), running since September 10, through October 8, 2011. Here's some more information:
Jonathan LeVine Gallery is pleased to present Home Of The Brave, new works by Dylan Egon, in what will be his first solo exhibition at the gallery. and largest to date. "Sites of cultural compression, fetishization and wonder." — Benjamin Genocchio, The New York Times. Egon has a background in Anthropology, Archeology and Film production. Presently, he works in the field of tabletop design and product styling of commercial photography for luxury fashion editorial and advertising clients. For the past several years, Egon has created personal artwork for himself incorporating his collections of objects. Much like the late Joseph Cornell, Egon's work was not originally intended for exhibition. Egon possesses a tremendous knowledge of design history, a deep nostalgia for Americana as well as a profound respect and appreciation for fine craftsmanship as a form of artistry. He draws upon his expertise in the history of fashion and functional object design when creating fine art. Home Of The Brave features several works comprised of assemblage, in which each object carries significance on its own, as well as in relation to other objects in the piece. One such work, titled Modern American Tomb, includes a classic Coca-cola bottle, Jack Daniels whiskey, Marlboro cigarettes, Adidas sneakers, Leica camera, Fender guitar, Colt 45 pistol, Rolex watch, a copy of the Bible, and several other objects, all surrounding the silhouette of a full-scale male skeleton formed out of pressed brass. ...