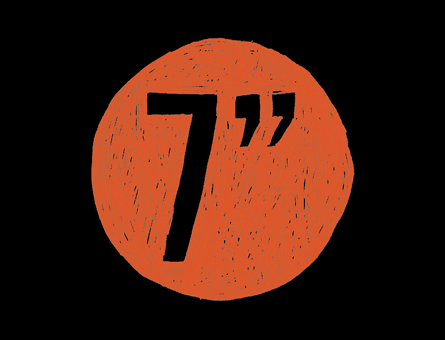 There is something about vinyl that transcends every format that has followed in its path. An integral reason for this is that it's allure and functionality allows the listener to be absorbed by more than one of their senses.

Secret 7″ is a project which aims to rekindle some of the excitement for sleeve art in the digital era by exploring how a track would be interpreted by an array of brilliant artists.

In April the Idea Generation gallery in Shoreditch, London will exhibit around 700 unique seven-inch sleeves inspired by tracks from The Cure, Florence + The Machine, Bombay Bicycle Club, CSS, DJ Shadow, Noah & The Whale and Ben Howard. The exhibition has an added air of mystery as no-one will know who designed each sleeve, or which of our seven tracks is housed inside.

On the 21st April – Record Store Day – through to close on Sunday the exhibition is yours to own. Each of the one-of-a-kind heavyweight 7" records will be available to take home with you for a minimum donation to Teenage Cancer Trust of £40.

Every penny profited from the sale of these exclusive vinyl records is going to the charity.

Find us on facebook

And on twitter
Find out more about the cause and check out some of the artwork after the jump!
The exhibition will pop up from Wednesday 18th through to Sunday 22nd April 2012 at the Idea Generation gallery in Shoreditch.

During the week you will be able to view the collection as a whole. Then on Record Store Day, Saturday, they shall all be available to purchase through to close on Sunday.

The sleeves for all 7 hosts will be mixed up together to keep the identity of the record inside a secret. Leaving the viewer to interpret which of our 7 tracks each artwork was inspired by.

Established in 2008, Idea Generation Gallery specialises in exhibitions of a pop or counter-culture nature. Having exhibited the likes of Storm Thorgerson, John Squire, Syd Barrett and Mick Rock, the gallery is one of the UK's most popular and most coveted commercial galleries, second only to The Saatchi Gallery.

Daily opening times are 10am – 6pm.

We are only able to take cash donations – so be sure to bring plenty along with you.

Idea Generation Gallery
11 Chance Street
London E2 7JB

Artwork

To name just a few: a set of seven by David Shrigley, Michael Spencer Jones (Oasis, Verve), Andy Vella (who did the original sleeve for Friday I'm In Love), Central Station (Happy Mondays, Black Grape), Toby Mott (De La Soul), Stylorouge (Blur, The Cure, Morrissey), Richard Evans (The Who) and Grammy winner Peter Corriston (The Rolling Stones, Billy Idol, Carole King, Debbie Harry, Led Zeppelin, New York Dolls and Tom Waits).

Each host has also challenged creatives from across the world to submit a design through the Talenthouse platform. Thousands were submitted and whittled down the hosts to join the exhibition.

Finally those designs will be joined by a few from teenagers that the charity has helped.