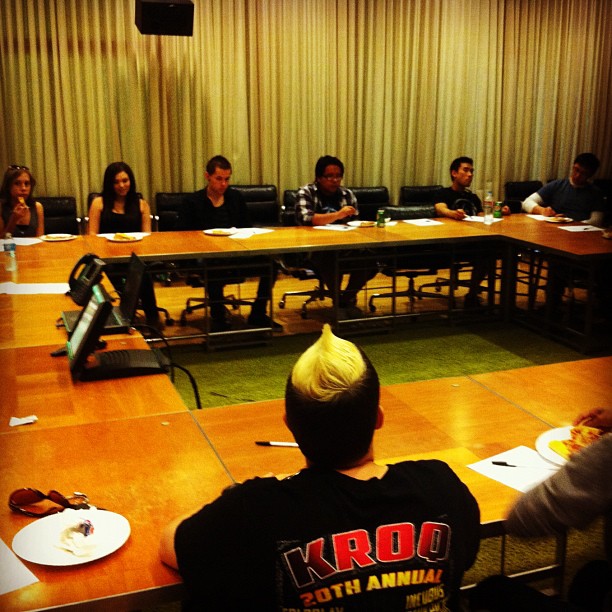 "The Official Review": LPU LIVING THINGS Pre-Listening Party 6/15/12
I had the great privilege of attending the LPU LIVING THINGS pre-listening event on June 15th, 2012 in LA with a few other friends and LPU members. Luckily I was able to write down a few notes about my initial reactions to each of the songs. Without giving too much away, here's my brief review track-by-track.
LOST IN THE ECHO: I'll admit, I cheated and listened to the 30 second preview the night before. But this might just be my favorite song of all time. It's perfect. It's loud, it has rapping, screaming, and is everything a classic Linkin Park song should be. If this hits the radio, the sky is the limit! My prediction; next single.
IN MY REMAINS: I love the intro to this song. The build-up to the bridge is awesome, and the same can be said for the dual harmonies with Mike and Chester's vocals. Lyrically, it's one of my favorites from the album. This is one I'd like to see performed on a big stage.

BURN IT DOWN: The high energy and catchy rhythm of this song are what first drew me in. It's a very safe and distinct choice for the first single. But after hearing all of the songs, I don't think BID is an accurate representation of the rest of the album. Nonetheless, I still can't get enough of it!
LIES GREED MISERY: Mike starts things off with a big bang, and Chester finishes with an even bigger boom. Love the aggression, and can't wait to hear this one live in concert someday soon!
I'LL BE GONE: The first thing I heard was guitar!! Really great vocals from Chester on this one too. It has a nice hook and chorus, and flows well. It's another solid track, but nothing extraordinary.
CASTLE OF GLASS: This song is my favorite on the album (at the moment). Mike's voice fits the song perfectly and sings it so well. The drums are amazing and the harmonies give it an extra kick that shapes the song in a unique way. It gave me my first goosebumps (and made my friend cry). Lyrically one of the best I've heard.
VICTIMIZED: This song fucks you hard and fast. It's short, but attacks you from all sides and hits you hard and heavy. It's a powerful sucker punch. I wish it were longer!
ROADS UNTRAVELED: The tic-toc intro combined with the soft piano makes for a nice change of pace in contrast to the previous track. Once again, Mike and Chester's harmonic vocals strike a powerful balance that rises and falls with a building guitar.
SKIN TO BONE: I didn't know what to think the first time I listened to this. It's slightly set apart from the rest because of the simplicity of the melody and lyrics. It isn't outstandingly forceful and not too mellow. It may take a few more listens to fully get into.
UNTIL IT BREAKS: A clusterfuck of sounds! I love the way it changes directions and melodies. Mike goes hard in this one for sure. The ending threw me for a loop. I was pleasantly surprised. Another favorite.
TINFOIL: A classic Linkin Park instrumental. Short, but sweet. Almost has a haunting feel to it. It provides an excellent setup to the next song.
POWERLESS: A tender moment from Chester. I love the piano in the beginning. Chester gives a fantastic and heartfelt vocal. I can see myself singing along already (once I learn the lyrics)! A very nice way to end the record. This one is definitely a treat for the girls!
Many have seen the picture that was uploaded to the Linkin Park Instagram page. (I'm the one on the far left stuffing my face). Some claims have been made about why we don't look like we're having a 'fun time'. To put things simply, we weren't bored, we were blown away… The album left us completely speechless and in a state of pure admiration. There wasn't much we could do except stare at each other in amazement & emotion. It's THAT good.
LIVING THINGS blends together the very best elements from all of the prior records. We get heavy guitars, rapping, screaming, electronics, beats, and sampling. It's a true work of art. Everything was just fantastic, and personally this is my favorite album to date. I also noticed that this record seems to be a little more "Mike-heavy". He sings and raps and throws his vocals around on a majority of the songs. As I was listening to Hybrid Theory on the drive home yesterday, I couldn't help but realize how much our babies have grown over the last 10-12 years, instrumentally, vocally, and lyrically. I still can't believe I'm hearing the same band! Each song has its own different flavor, and I absolutely love them all! I cannot wait to see how these new songs will translate into a live set. As for now, I'm impatiently waiting until June 26th when I get my official high-quality CD, so I can blast it through my car. And of course, celebrate with the rest of you who remained strong soldiers and didn't give into the pressure of the leaks. Hats off to you!
Lastly, if you haven't already, PLEASE do yourself a favor and pre-order LIVING THINGS. (And do it preferably from me. I'm still #5 in Share2Earn! I'm striving for top 10!) You will not be disappointed, and this album is going to be a must-have for the summer. Once again, LIVING THINGS has already ruined me (for the better). Just to put things into perspective, I went to bed at about 4a.m. after listening on repeat all night. I woke up this morning at 7a.m. with CASTLE OF GLASS lyrics swimming in my head, just to listen again and finish this review! So please, do not miss out on this beautiful masterpiece! LIVING THINGS has completely earned my respect, support, and humble stamp of approval. It's truly Linkin Park at their best!
-Dayna Brisco
http://www.getonic.com/shop/12997/6270
Adie: Thanks so much Dayna! This is a great review and I can't wait to hold LIVING THINGS in my hands! If you want to enjoy the album with Linkin Park fans all over the world, there's a worldwide Listening Party! All infos here!
Spread this flyer!