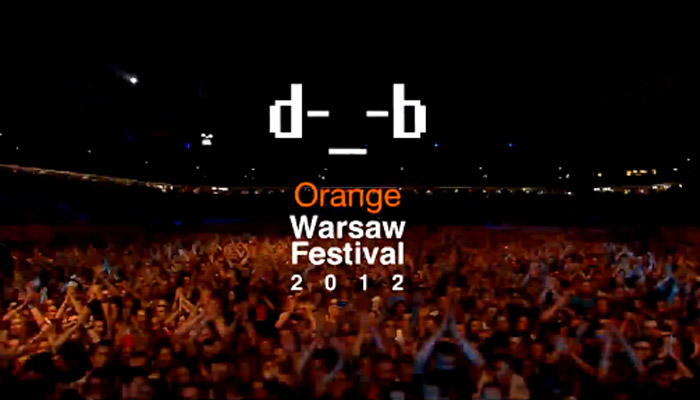 Let me apologize to begin with, let me apologize for what I'm about to say, but I have to write something more than just a review, something more than just how AMAZING LINKIN PARK concert was.
The first thing is that it was my first concert ever, I wasn't sure what I should expect from other fans, what I should take with me, how long will I be waiting before the concert and how it will look like during the show. I won't lie, I was a little bit scared. I do not have any friends in the real world that listen to LINKIN PARK so I went there with my friend that just wanted to see how it is on a concert. And it was not a good idea, I hoped that she'll become a fan after this wonderful night but all in all I lost a chance to see everything good and touch them:(
OK. Let's start. Since the concert in 2007 in Chorzow, which Chester thinks was a year earlier and he definitely didn't hear us screaming a correct date, all Polish fans were waiting for LINKIN PARK to come to us. We knew that no matter what they would sing, how long the show would last it would be GREAT to see them. We wanted to show them our unconditional LOVE and that we can have fun just like fans from other countries. And this year it happened. When we found out that LINKIN PARK will perform during Orange Warsaw Festival we all wanted to be there. On the beginning there was no information from the organizator about artists, apart from LP concert, during the whole festival and there were no tickets after about 2 weeks. WOW. It proves who was the biggest star among all OWF artists this day. We had big plans, we wanted to do a lot to make the band come to us more often, but I am not sure if we did this. Do they really know how much we love them? Hmmm…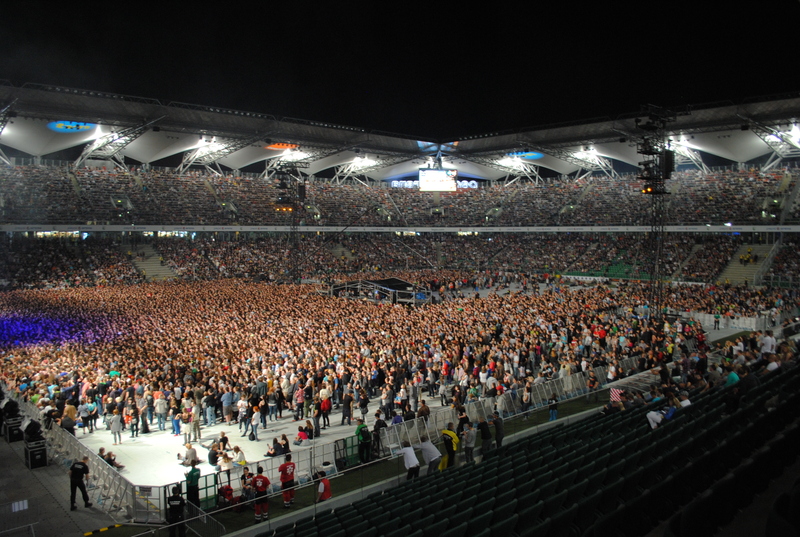 I was waiting there from 11 am and I was not the first person. There were a lot of people that had much longer ways to Warsaw by buses, by cars or by trains like me. I was lucky cause I had a place to sleep so I could come to Warsaw on Friday and I didn't have to sleep on the railway station just like others. The fact is that it was not a good date for any festival because EURO 2012 caused a lot of communication problems and prices in hotels increased dramatically. But who cares? LINKIN PARK's coming, that's all that matters! There were fans from the whole country.
Everybody was pretty excited, we spent time talking about LP, about our expectations connected with Living Things. Time flied fast. When we finally got into Pepsi Arena, after attacking security guards that wanted to stop us, tried to close doors only because it was funny, I found out that I am maybe 4 meters away from the scene. YEAH. That's what I was dreaming about! After 2 additional hours of waiting inside the stadion festival started. Yes, we were screaming, jumping and having fun during two first concerts (Fisz Emade Tworzywo and De La Soul) but the truth is that we all were waiting only for one thing.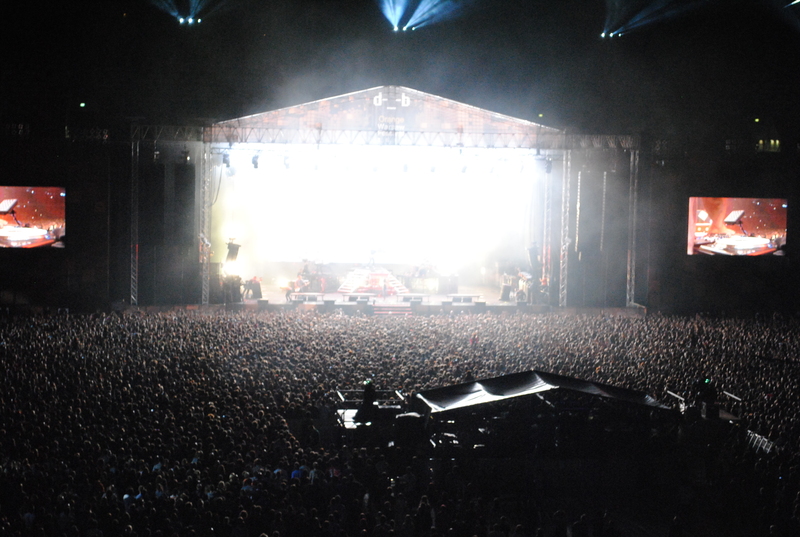 I wasn't expecting that people would be so nice and helpful, that they would let me stand in front of them cause I wasn't as tall as they were, I'd never expect that they would help others to regain balance after jumping. They were great. LINKIN PARK fans are great. We are good people. We do not want to hurt others. But right before LINKIN PARK's performance was a concert of Garbage. Let's call it a concert even if it was BAD and irritating like hell.
When the vocalist that looked like she was going to pass out after a moment said: "I know you all came here not because of us, but to see this wonderful group De LA Sould (WTH?) and maybe LINKIN PARK but I know that there are some Garbage fans, You are my people" group of their fans got crazy. They decided to destroy us cause we were just standing and waiting for the end of this humiliating show.
Sorry for these cruel words but this is what I think, that's how it looked like. They tried to make us fall down and 4 times we were stronger, we were helping each other, we were holding hands to make it easier to keep balance but when they all hit us for the 5th time we all fell down. Just great! And what would You expect from an artist that definitely had to see what's going on? Wouldn't You expect her to say something to make "her" people stop what they are doing. Yeah, would be great, but not this time. It was only funny for her. My friend probably broke her arm when she fell down and I had to leave my best place. We stayed there but I was far away from scene. Good job, You – so called Garbage fans.
LINKIN PARK started their show a little bit later than we had expected but we could wait even longer just to see them. Scene looked AMAZING. When they started, the whole crowd got CRAZY, crazier than before what I thought was impossible. We were all singing, jumping and just taking as much from LP as we could. Chester was incredible! Even after watching so many concerts via internet I wasn't really expecting that he can have so much energy! How is he doing this? Brad and Phoenix were wearing T-shirts in Polish flag colors which was a great idea:) THANK YOU guys! And Mike…. Oh, He was as good as ALWAYS. Do I have to say something more? The moment when Chester and Mike went to fans was – WOW – breathtaking! Amazing! They fulfilled a lot of people's dreams. And even if I was not standing where I should and yes, I was pissed off, I was happy for these people cause I KNEW that next time I would be there too 😀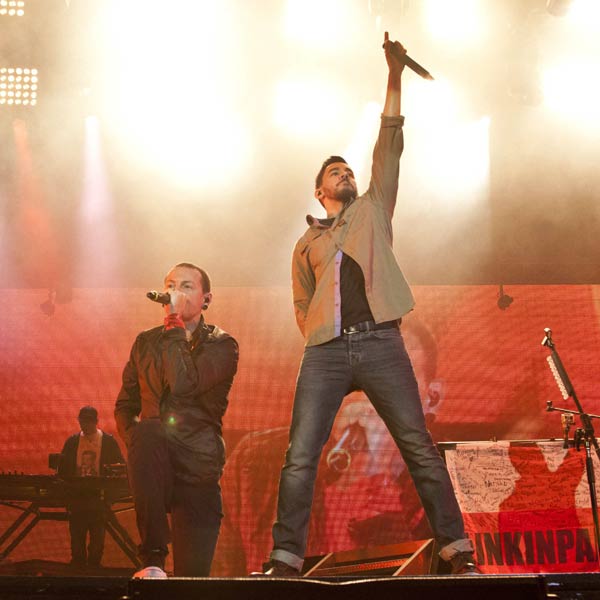 Setlist was the same as in Rock in Rio, in Lisbon and in other countries during this tour, but in my opinion some songs sounded much better than in Portugal, for example With You. Just as I expected I was crying during LOATR/SOAD/Iridescent and I was not the only one. It was just A-M-A-Z-I-N-G. And, oh, I really really love Chester singing Sabotage.
LINKIN PARK Poland prepared a flag that was on a scene during whole concert and that was great but I have to say that unfortunately we didn't do everything good. We planned to use glowsticks during Waiting for the end, but I'm afraid that LINKIN PARK didn't even see them. Some glowsticks didn't work, some got lost and some started shining long before LINKIN PARK's show because of this accident with falling down, because of fighting with security and because of the crowd. It was a good idea, but… Next time will be better. I'm sure.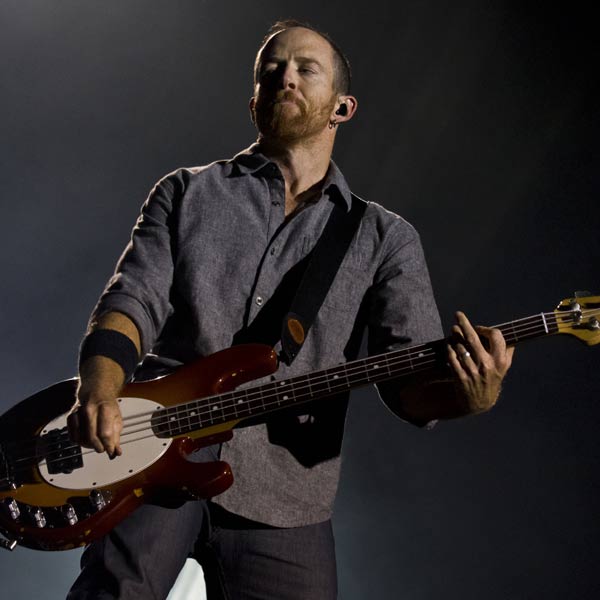 I hope LINKIN PARK will come to Poland during their next European tour and that they won't let us wait another 5 years. Guys! We are here, we LOVE YOU and why do we have to travel to other countries to see you live! And I'm sure that we'll all have a lot of fun, that we all will come cause the truth is that it's really EASY to get addicted to LINKIN PARK cause you know – they are the best band in the world.
I am tired, sleepy after 3 days without sleeping, I almost can't talk because I was screaming so loud and my all muscles hurts but in the end it doesn't even matter.
LINKIN PARK ROCKS!

Adie: Thanks so much, ChestersArmy, for writing this great review! It took me a while to post it, because I was so busy with the Twitter Listening Party, but I finally managed it! Yay! XD
---