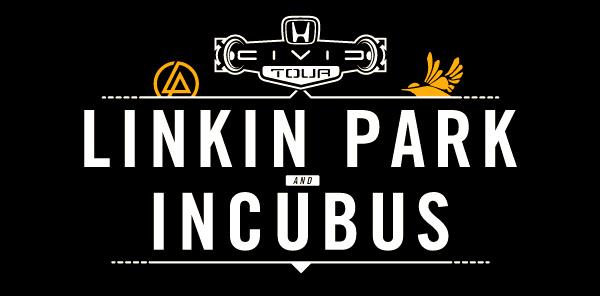 It's THAT time again! Linkin Park are going on tour again, and you can share your experience here on this blog!
If you were so lucky to get a ticket for the Honda Civic Tour with Incubus in North America and you want to write a report about the show, contact me via Twitter (@adiek84), Facebook (Adie Klarpol) or E-Mail (adiek84@gmx.net)!
Rules and Regulations: None! Just write whatever you want to write about the show, no matter how short or long your report is. It would be great if you could also share some pictures of the show with us!
Below you can find all Linkin Park tour dates and the completed fan reviews:
I've added the fans' names/Twitter names that want to review a show, and will update the post regularly with new info and links to the fan reviews.
Up to two reviewers per show are okay, so if you want to review a concert and it only has one reviewer, that won't be a problem.
May 18 Los Angeles, CA (Review by Irene_k/LPU and Dayna Brisco)
May 26 Lisbon, Portugal – Rock in Rio Lisboa (Review by ascenso_fb and YoMarquesLP = LPU Roadie)
May 27 Landgraaf, Netherlands – Pinkpop Festival (Review by Kelly Gio/LPU and Anvanoppens = LPU Roadie)
May 30 Skive, Denmark – Skive Festival (Review by Dan-LP/LPU)
Jun 01 Nurburgring, Germany – Rock Am Ring (Review by JenniferKlein91 and BlackChester)
Jun 03 Nuremberg, Germany – Rock Im Park (Review by Surudenise and RaydenLP6)
Jun 05 Berlin, Germany – Telekom Street Gig (Review by LPFan1989, Noda_Flake and BlackChester)
Jun 06 Bucharest, Romania (Review by Ambergirl87 and Marijana)
Jun 08 Nickelsdorf, Austria – Nova Rock Festival (Review by @theRosko = LPU Roadie)
Jun 09 Warsaw, Poland – Orange Warsaw Festival (Review by ChestersArmy)
Jun 10 Moscow, Russia – Maxidrom Festival (Review by _CallMeAna_ and Kinomonstr)
Jun 12 Odessa, Ukraine – Prosto Rock Festival (Review by Andy_Potapov)
Jun 14 St. Petersburg, Russia (Review by Pro_Ice)
---
Jun 27 Los Angeles, CA, Jimmy Kimmel Live (No reviewer yet)
Jun 29 Los Angeles, CA, X Games MUSIC, Club Nokia (No reviewer yet)
---
Aug 11 Bristow, VA (No reviewer yet)
Aug 12 Uncasville, CT (Review by aud31/LPU)
Aug 14 Mansfield, MA (Review by Kyle Boucher)
Aug 15 Wantagh, NY (No reviewer yet)
Aug 17 Camden, NJ + LPU Summit (Review by AbrahamLinkin12 & Melissa McGoldrick)
Aug 19 Atlanta, GA (Review by Shotgunopera/LPU)
Aug 21 Auburn Hills, MI (No reviewer yet)
Aug 22 Cincinnati, OH (No reviewer yet)
Aug 24 Tinley Park, IL (Review by Irene_K/LPU)
Aug 25 Indianapolis, IN (No reviewer yet)
Aug 27 Dallas, TX (Review by ROBot Girl/LPU)
Aug 28 The Woodlands, TX (Review by ROBot Girl/LPU)
Aug 30 Englewood, CO (Review by nikkiann0100)
Sep 01 Calgary, AB, Canada – X-FEST Festival (No reviewer yet)
Sep 02 Edmonton, AB, Canada – SONiC BOOM (No reviewer yet)
Sep 04 Vancouver, BC, Canada (No reviewer yet)
Sep 05 Tacoma, WA (Review by Ninjarabi/LPU)
Sep 07 Mountain View, CA (No reviewer yet)
Sep 08 Carson, CA (No reviewer yet)
Sep 10 Chula Vista, CA (Review by Dayna Brisco)
Sep 12 Monterrey, Mexico MTV World Stage (No reviewer yet)