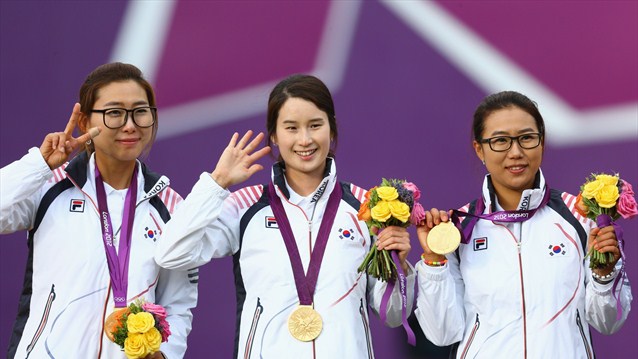 Archery
Women's
Republic Of Korea's team will go home with yet another gold medal! China got away with the silver and Japan had beaten Russia and got their first medal in archery ever, the bronze!
Men's
The Italian archers proved their power once again and won the gold medal in Men's Archery, followed by USA who took the silver one and the Republic of Korea who will go home with a bronze one.
Diving (Women's Synchronised 3m Springboard)
Gold medal time for China, as He Z and Wu M performed greatly in the final. Silver for USA's Bryant and Johnston and bronze for Canada's Abel and Heymans.
Fencing (Men's Individual Sabre)
Hungarian champion Aron Szilagyi has defeated his Italian opponent Diego Occhiuzzi in Fencing and he received the gold medal while the latter received the silver one. The medal holders' group got completed by the Russian superstar Nikolay Kovalev who took the bronze medal.
Judo (Men's 66kg)
Medal time in Men's 66kg Judo as well. The gold one went to the Georgian Lasha Shavdatuashvilli, the silver went to his Hungarian opponent in the final, aka Miklos Ungvari and the bronze one went to the Korean Jun-Ho Cho.
Shooting (Women's Skeet)
USA, supporting the tradition in Women's Shooting, got another gold medal home with Rhode. The Chinese Wei finished the competition second, followed by Bertekova from Slovakia.
Enough with the medals, let's see what happened throughout the evening and check the highlights!
France's Camille Muffat set a new Olympic Games record to secure gold in the women's 400m Freestyle at the Aquatics Centre.
15-year-old Lithuanian Ruta Meilutyte breaks the European and makes it to the 100m breaststroke final!
Dana Vollmer from the USA wins the Women 100m Butterfly gold medal and sets a new world record.
USA smashed France earlier this evening in Basketball with 98-71.
Spain, in basketball as well, shattered China's every hope for a winning debut in the competition, 97-81 in.
In men's beach volleyball, The Netherlands hold out against Venezuela.
A few more games are up to commence, you will read details and scores about them tomorrow, stay tuned!