Racism is Fun? – Why Rick Perry's flirtation with birtherism is racist
Earlier this week, Rick Perry said, "It's fun to poke at [Obama] a little bit and say, 'Hey, let's see your grades and your birth certificate.'" And why shouldn't he find birtherism fun? Racism is supposed to be fun for white people who choose to engage in it. I mean, it's gotta be fun to be powerful and dominant and flaunt white privilege. Right? In a country where lynchings once doubled an occasion for barbeques — the strangling and perhaps burning of a Black body as the central performance act at a pleasant Southern picnic — why shouldn't racism be fun for white people? ...
Never Forget The Victims Of 9/11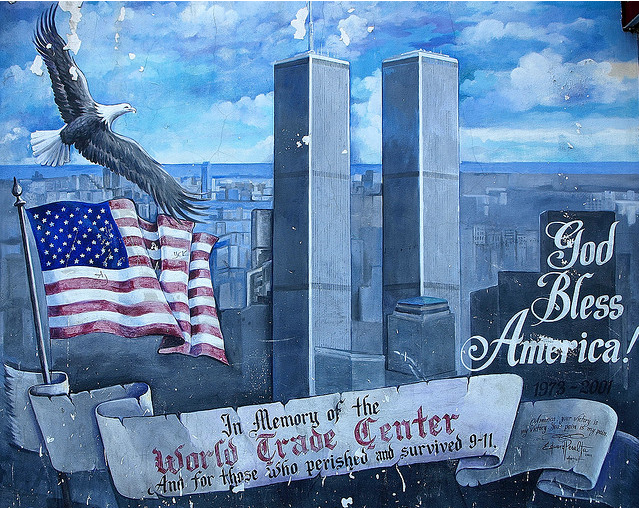 Rest in Peace
World Trade Center Victims
Gordon M. Aamoth, Jr. Edelmiro Abad Maria Rose Abad Andrew Anthony Abate Vincent Abate Laurence Christopher Abel William F. Abrahamson Richard Anthony Aceto Jesus Acevedo Rescand Heinrich Bernhard Ackermann Paul Acquaviva Donald LaRoy Adams Patrick Adams Shannon Lewis Adams Stephen George Adams Ignatius Udo Adanga Christy A. Addamo Terence E. Adderley, Jr. Sophia Buruwad Addo Lee Allan Adler Daniel Thomas Afflitto Emmanuel Akwasi Afuakwah Alok Agarwal Mukul Kumar Agarwala Joseph Agnello David Scott Agnes Brian G. Ahearn Jeremiah Joseph Ahern Joanne Marie Ahladiotis Shabbir Ahmed Terrance Andre Aiken Godwin Ajala Gertrude M. Alagero Andrew Alameno Margaret Ann Alario Gary M. Albero Jon Leslie Albert Peter Alderman Jacquelyn Delaine Aldridge David D. Alger Sarah Ali-Escarcega Ernest Alikakos Edward L. Allegretto Eric Allen Joseph Ryan Allen Richard Dennis Allen Richard Lanard Allen Christopher E. Allingham Janet M. Alonso Arturo Alva-Moreno Anthony Alvarado Antonio Javier Alvarez Victoria Alvarez-Brito Telmo E. Alvear Cesar Amoranto Alviar Tariq Amanullah Angelo Amaranto James M. Amato Joseph Amatuccio Christopher Charles Amoroso Kazuhiro Anai Calixto Anaya, Jr. Joseph Anchundia Kermit Charles Anderson Yvette Constance Anderson John Andreacchio Michael Rourke Andrews Jean Ann Andrucki Siew-Nya Ang Joseph Angelini, Jr. Joseph Angelini, Sr. Laura Angilletta Doreen J. Angrisani Lorraine Antigua Peter Paul Apollo Faustino Apostol, Jr. Frank Thomas Aquilino Patrick Michael Aranyos David Arce Michael George Arczynski Louis Arena Adam P. Arias Michael Armstrong Jack Charles Aron Joshua Aron Richard Avery Aronow Japhet Jesse Aryee Patrick Asante Carl Asaro Michael Asciak Michael Edward Asher Janice Marie Ashley Thomas J. Ashton Manuel O. Asitimbay Gregg Arthur Atlas Gerald T. Atwood James Audiffred Louis Frank Aversano, Jr. Ezra Aviles Sandy Ayala...
Casey Anthony Sentenced to 4 Years
Casey Anthony, who earlier this week was found not guilty of killing her daughter, was sentenced on Thursday to four years in jail, not including the nearly three years she has served for lying to investigators, though the precise time she will spend in jail has not yet been determined. Judge Belvin Perry said that he would have to meet with lawyers for at least an hour or so to decide how much time Ms. Anthony should be credited with serving. A decision is to be reached sometime Thursday. She was also fined $1,000 for each of the four counts of lying she has been convicted of. ...
Man Connected to The Notorious B.I.G.'s Murder Comes Forward: Report
Just weeks after a New York based inmate allegedly confessed to robbing Tupac Shakur in 1994, a man named Clayton Hill has reportedly come forward to confess who allegedly murdered The Notorious B.I.G. and speaks on his own involvement. On June 8, former Nation of Islam member, Hill, contacted HipHopDX and confessed to being handed a semi-automatic handgun that was allegedly used in the shooting of B.I.G. on March, 1997. According to a reported email exchange between Hills, 41, and HipHopDX, via CorrLinks, in mid-May 1997 Western Regional Minister from the Nation of Islam, Tony Muhammad, with the approval of Supreme Captain of the Southern Region, Abdul Sharrieff Muhammad, via Account Executive Brother Melvin Muhammad, ordered Hill to pick up Dawoud Muhammad from the Greyhound Bus Station in downtown Atlanta. Dawoud's name was kept from Hill till Dawoud introduced himself as such when meeting....