Conspiracy Theory: Disney, the CIA and mind control programming of child stars
Thanks to Mr. Bobbie Bloomfield from Does it offend you, yeah? I've found this amazing article about the mind control attempts of Mickey Mouse and his friends:
Mickey's mind control The latest photo shoots of young TV and music stars reveal some sort of obsession with Mickey Mouse accessories. And there's definitely no danger of running out of these pictures anytime soon. Tons of them appear in the media every week. Lady Gaga and Beyonce's "Telephone" video clip feature scenes where they're wearing Mickey Mouse hats, sunglasses and minnie mouse trademark lips. Selena Gomez's "Kiss and Tell" album cover features her with Minnie Mouse lips. It has been claimed that Mickey Mouse ears or designs often occultly refer to mind control. According to Wikipedia encyclopedia, The Mickey Mouse Club is an American variety television show that began in 1955, produced by Walt Disney Productions and televised by the ABC, featuring a regular but ever-changing cast of teenage performers. The Mickey Mouse Club was created by Walt Disney. The series has been revived, reformatted and reimagined several times since its initial 1955-1959 run on ABC. ...
Never Forget The Victims Of 9/11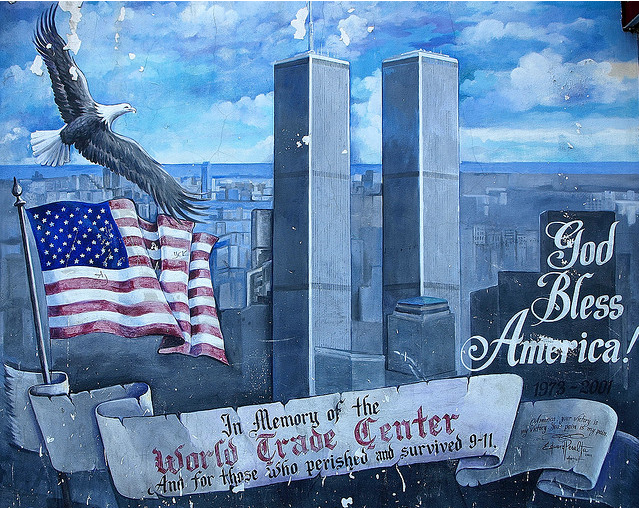 Rest in Peace
World Trade Center Victims
Gordon M. Aamoth, Jr. Edelmiro Abad Maria Rose Abad Andrew Anthony Abate Vincent Abate Laurence Christopher Abel William F. Abrahamson Richard Anthony Aceto Jesus Acevedo Rescand Heinrich Bernhard Ackermann Paul Acquaviva Donald LaRoy Adams Patrick Adams Shannon Lewis Adams Stephen George Adams Ignatius Udo Adanga Christy A. Addamo Terence E. Adderley, Jr. Sophia Buruwad Addo Lee Allan Adler Daniel Thomas Afflitto Emmanuel Akwasi Afuakwah Alok Agarwal Mukul Kumar Agarwala Joseph Agnello David Scott Agnes Brian G. Ahearn Jeremiah Joseph Ahern Joanne Marie Ahladiotis Shabbir Ahmed Terrance Andre Aiken Godwin Ajala Gertrude M. Alagero Andrew Alameno Margaret Ann Alario Gary M. Albero Jon Leslie Albert Peter Alderman Jacquelyn Delaine Aldridge David D. Alger Sarah Ali-Escarcega Ernest Alikakos Edward L. Allegretto Eric Allen Joseph Ryan Allen Richard Dennis Allen Richard Lanard Allen Christopher E. Allingham Janet M. Alonso Arturo Alva-Moreno Anthony Alvarado Antonio Javier Alvarez Victoria Alvarez-Brito Telmo E. Alvear Cesar Amoranto Alviar Tariq Amanullah Angelo Amaranto James M. Amato Joseph Amatuccio Christopher Charles Amoroso Kazuhiro Anai Calixto Anaya, Jr. Joseph Anchundia Kermit Charles Anderson Yvette Constance Anderson John Andreacchio Michael Rourke Andrews Jean Ann Andrucki Siew-Nya Ang Joseph Angelini, Jr. Joseph Angelini, Sr. Laura Angilletta Doreen J. Angrisani Lorraine Antigua Peter Paul Apollo Faustino Apostol, Jr. Frank Thomas Aquilino Patrick Michael Aranyos David Arce Michael George Arczynski Louis Arena Adam P. Arias Michael Armstrong Jack Charles Aron Joshua Aron Richard Avery Aronow Japhet Jesse Aryee Patrick Asante Carl Asaro Michael Asciak Michael Edward Asher Janice Marie Ashley Thomas J. Ashton Manuel O. Asitimbay Gregg Arthur Atlas Gerald T. Atwood James Audiffred Louis Frank Aversano, Jr. Ezra Aviles Sandy Ayala...
The Draft Ends in Germany, but Questions of Identity Endure
BERLIN — Germany formally discontinued the draft at midnight on Thursday to make way for a smaller, tighter army that will draw people like Johannes Beckert and Steven Stadler, both volunteers signing up for duty at a sprawling, suburban recruitment center that once housed the East German military's overseas espionage agency. The two men are part of a military evolution spanning more than half a century, from rearmament in the divided Germany of the 1950s through the cold war, which placed hundreds of thousands of young German soldiers on either side of the Iron Curtain, and on to a reunification that was not just geographic and political but also created a single army bonded by conscription. They are part, too, of a long-running German quest for antidotes to its Nazi past, ensuring that its military is subservient to the will of a democratic Parliament....
As Their Work Gains Notice, These Painters Suffer for Their Art
Very interesting article from the Wall Street Journal. Those police officers crack me up! Apparently Risky's bus motivate other graff artists to paint on buses...because they've never done that before. XD
LOS ANGELES—To the Los Angeles Museum of Contemporary Art, Revok is a renowned artist whose bright, sprawling work is worthy of display in its latest exhibit. To the Los Angeles County Sheriff's Department, Revok is Jason Williams, also known as inmate No. 2714221. Last month, Mr. Williams was sentenced to 180 days in county jail as a result of a probation violation from a graffiti incident, just days after the opening of a major museum exhibit dedicated to "street art" that features his work. Unable to post his $320,000 bail, Mr. Williams sat in jail for four days before the sentencing. It may be illegal on the street, but inside the Los Angeles Museum of Contemporary Art, a new exhibit celebrates the history of graffiti, featuring work by artists like Banksy and Shepard Fairey. WSJ's Tammy Audi reports. Law-enforcement officials around the country are prosecuting graffiti artists with harsher sentences than ever, pushing for felony charges, real prison time and restitution payments as they seek to wipe graffiti from the streets. At the same time, the art world and corporations are embracing the form like never before. "You can make a case that graffiti and street art is the most influential art movement since the great innovations of the '60s," says Jeffrey Deitch, director of the L.A. museum, known as MOCA. "Before this show, no American museum had ever done an ambitious historical exhibition."...
China arrested 'Jasmine' activists
Scores of government critics, lawyers, activists, bloggers, artists and "netizens" have been arrested since February, amid government fears of a "Jasmine Revolution" inspired by events in the Middle East and North Africa. Amnesty International profiles some of the new generation of Chinese activists caught in the sweep.
---
Liang Haiyi aka Tiny:
Early victim of the "Jasmine Revolution" crackdown
Status:
In detention on suspicion of "subversion of state power"
In her own words:
"When the country cannot protect a beggar, it cannot protect the emperor!
---
Liang Haiyi was reportedly taken away by police on 19 February in the northern Chinese city of Harbin for sharing videos and information about the "Jasmine Revolution" on the internet. Her lawyer confirmed she was detained on suspicion of "subversion of state power". ...